Friday, June 29th, 2007...9:54 am
The Ripe Environment
Jump to Comments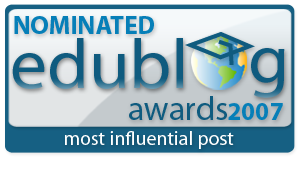 I am tired of talking about the tools. Many of us have been talking about the tools for a long time now. We have said that using technology for technology's sake is counterproductive. We want to use technology as a tool, right? But the tools for collaborating and creating are the largest sticking points for others. Teachers get caught up on jargon, on the basic skills of one program or process. They are still so focused on "podcasting" or "dreamweaver" that there is no room for creating the environment in which people will actually want to go beyond the tools, into true learning (you know, what we want our kids to be doing). What, then, is beyond the tools? What should we really be reaching for? The Ripe Environment. The simultaneous personal and public experience of using all of the tools at the teacher's disposal to tear down walls, collaborate with each another, and question the traditional role of technology in the classroom.
So, how do we get to The Ripe Environment? Well, I have started to reflect on how I became a constant-learner and contributor to this thing I am more and more reluctant to call School 2.0. I want to replicate this process for others, and showing people my flickr account, my del.icio.us account, my blog, my podcast, my pedagogy, my wiki projects, and my twitter account just doesn't seem to work very well. What does actually work is making sure that they have the right environment so that they can explore these resources on their own, through their own creation.
I am now proposing the 10 prerequisites for collaboration as a way of creating The Ripe Environment in the classroom, in a school, and in a district. There will be quite a few follow-up posts about this topic, but I wanted to get some feedback on what I have already written before I go too far off the deep end. Please leave a comment or e-mail me at [email protected]
Here they are:
In order for the environment to be ripe for collaboration, educators and learners must:
Have a genuine need to be heard by others and, in one way or another, receive feedback for contributions.
See living examples of collaboration (not case studies or projects from a few years ago) that they can become a part of.
Have the time to connect more than two dots together. (Rather than connecting: "My students need to know this" with "here is the information" they need to have time to connect "My student needs to know this" with "my students need to evaluate this for validity" with "my students need to know how to use this resource to find the information" with "my students need to create new information for others to use.")
See collaboration as an extension of their natural instincts as a teacher (opening possibilities for learning).
Find the backchannels relevant to them (these backchannels must be encouraged and honored as vital sources of learning).
Understand the marks of successful collaboration. (They have to know what it looks like.)
Accept that questions are both for interdependent and independent learning. (All questions are serious points of inquiry in The Ripe Environment.)
Believe that personal and professional change can never be institutionalized. (Individuals create change, not schools or districts.)
Know that meetings, conferences, and workshops are not the places where the most powerful learning and change takes place.
I will be writing more about each one of these 10 prerequisites, but please let me know what you think about them as stand-alone ideas.